How does the international logistics situation affect me?
The international logistics situation: consequences and solutions
I imagine that at this point in the year, everyone has heard something about the logistics crisis that we are experiencing, although perhaps what we do not fully know are the causes of this crisis. I am sure that, if we conduct a survey on the causes before analysing them, many of you will vote that the cause is COVID, others will vote that the cause is that the containers are not in the right place, others that China is to blame.
I imagine that at this point in the year, everyone has heard something about the logistics crisis that we are experiencing, although perhaps what we do not fully know are the causes of this crisis. I am sure that, if we conduct a survey on the causes before analysing them, many of you will vote that the cause is COVID, others will vote that the cause is that the containers are not in the right place, others that China is to blame.
Who is right? Whose responsibility is it for the strain the whole supply chain is under? If there were a single culprit, the solution would be relatively easy to tackle or minimise. The problem is more complex and has multiple factors. Each of them separately would not put so much stress on the supply chain, but all of them together create a perfect storm that has brought us to the point we are in. I will try to shed some light on this issue.

What is the process when the logistics chain works well?
The pandemic and empty containers
The year 2020 was marked by restrictions on mobility and the confinement of thousands of people. This has clearly and decisively affected world trade in various ways.
On the one hand, the confinement of people, the closure of production sites and port logistics terminals affected different parts of the world in different ways. Confinements and closures started in China in a very blunt manner, but soon the de-escalation of restrictions began and production sites were quickly reactivated. Elsewhere, such as in Europe, restrictions and closures of production sites lasted longer. This led to an imbalance in the shipping lanes, as ships left China full, but on their return route they were not as heavily laden as before.
As a consequence, there was a build-up of empty containers in European and American ports. In the first few months container shipments from China to the US increased by 12% and US shipments to China contracted by 14%.6

Another important factor resulting from confinement is that of changes in consumer purchasing habits. During containment and post-confinement, covid has devastated some sectors, such as hotels, restaurants and leisure. But for others it has been a boon. The World Trade Organisation forecasts world merchandise trade volume growth of 10.8%.7 This implies, according to the Netherlands Bureau of Economic Analysis, that world merchandise trade is 5% higher than before the pandemic, with China setting trade records.8
In addition, online commerce grew exponentially9 with a consequent increase in the load on global logistics systems..10

This shortage of containers in China and the increase in world trade has generated, by the law of supply and demand, an increase in transport costs and, therefore, an increase in the price of transported goods.11 Before the pandemic and even in the early months, shipping a container from Asia to the US or Europe averaged around $1,000. By August 2021, prices are expected to be between $9,000 and $15,000. The Wall Street Journal talks of prices as high as $20,000 for rush shipments. .12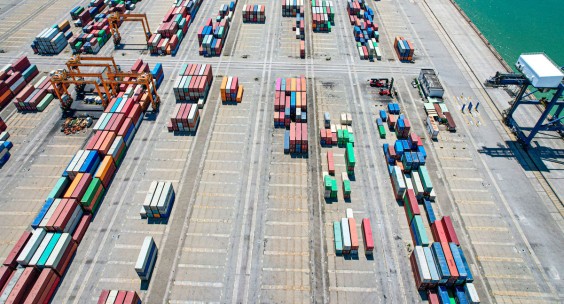 The management and prevention of Covid has indirectly created other problems. For example, the Chinese authorities practice a zero-tolerance policy on Covid. The Chinese Ministry of Transport ordered all ports to have special equipment to deal with foreign vessels and requires their crews to have health certificates or negative tests before they are allowed to load and unload. Chinese ports sometimes have their own rules, depending on the region they are in, and apply extra precautions to the crews of ships that called at ports in declared high-risk countries. "China's zero-tolerance policy is good for the pandemic, but bad for the supply chain," said Dawn Tiura, executive director of the Sourcing Industry Group, a US-based association for the sourcing and procurement industry.
13
Of course, it is not only the Chinese ports that have established more protocols for Covid prevention, and each country has applied its own protocols, such as the Good Practices on Covid prevention measures and action in the port cargo handling service in Spain,14 where Aerower's central warehouses are.

These protocols lead to delays in the entry of ships into port, delays in the entry of lorry drivers, stevedores and other personnel into port, as well as major restrictions in the rotation of ships' crews. All this delays unloading and therefore slows down the whole process and the movement of vessels. There is a clear reason for these protocols: by August 2021, only 15%15 of seafarers are vaccinated.16
As if this were not enough, with everyone already out of the loop, with the production centres active and despite the prevention protocols, in August 2021 the port of Ningbo-Zhoushan (which in 2020 was the third largest port in the world by cargo volume, with 28.72 million TEU) was closed for 2 weeks due to an outbreak of covid.17 This stranded ships in port for weeks, diverting ships to other ports and creating traffic jams.
Other complicating factors

As if it wasn't enough to have routes strained by increased demand, containers in the wrong place and delays due to Covid protocols, other problems have also played their part in this logistical case.


The bottleneck in the Suez Canal was also a determining factor. 18,19 This canal is a technological marvel that saves the need to circumnavigate the whole of Africa to get from Asia to Europe. It is a point where more than 10% of the world's maritime trade flows. In March 2021, the container ship Ever Given20 ran aground inside the canal and blocked all maritime traffic for 6 days.21 It has been estimated that it will take months to clear the delays caused by this blockage.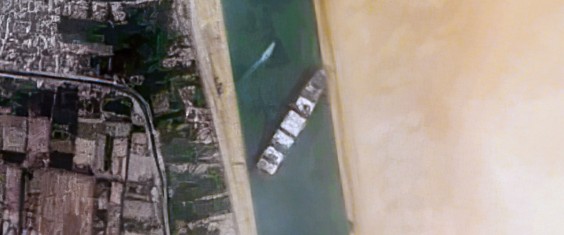 Believe it or not, the UK's largest freight port is jammed. When the container ships arrive in port and pass all the covid protocols, they find that there is no room in the port of Felixstowe to unload any more containers. But the cause is on land: there are not enough truck drivers to transport the goods from the port. This is not really something new, but it has been aggravated by the flight of drivers from other countries due to Covid and the restrictions on foreign workers due to Brexit.22

It is not only in the UK that there is a shortage of lorry drivers. In the United States, California ports are also experiencing congestion as a result. The ports of Los Angeles and Long Beach handle 40% of US container traffic and dozens of container ships currently have to stand outside these ports23 while they wait their turn to unload.24 The problem is such that President Joe Biden is considering mobilising the National Guard to alleviate the road transport problem.25 In addition, activity in these ports is now maintained 24 hours a day, 7 days a week.
The rush and the bad weather
On top of all this, the weather has not helped. The last winter has brought the strongest winds to the Pacific since 1948. This, coupled with the rush to ship as much cargo as possible by stowing some containers incorrectly, has had an unexpected consequence. This year has seen a record 1,000 containers lost at sea. While this is not a high percentage in relation to the annual container throughput, it is financially damaging to the companies, on top of all the others.26

I want to fix it, but I mess it up more

Shipping companies in a well-meaning effort to streamline processes now load ships more.27 Before the pandemic, ships arriving at Long Beach used to carry 4000 TEU. Today they arrive with about 7000 TEU, and the ports are not prepared to unload that much cargo.28 This is stressing port facilities and further slowing down port operations.
Los materiales desaparecen y los precios suben
All these problems, some major and some minor, are causing a global shortage of raw materials29 and an escalation in their prices. Problems have already been detected in industry30 due to shortages of microchips and semiconductors, as well as plastics, paper, cardboard,31 metals such as iron, aluminium and copper, and strategic minerals such as cobalt, lithium and indium. Again, in the face of a shortage of supply and high demand, the prices of these materials are soaring on the commodities markets.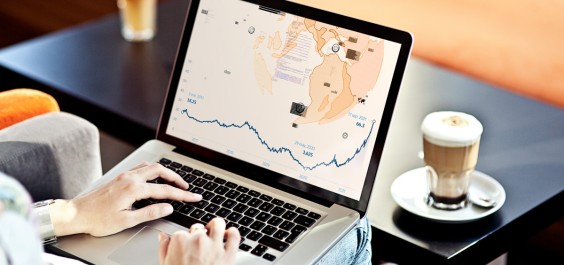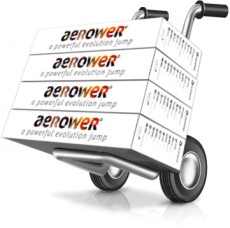 How does this affect my order?
All of the above could be the plot of an apocalyptic movie, but it is something that is happening here and now. And, of course, unfortunately it is something that affects your order, because at Aerower we are manufacturers and everything that happens to the raw materials we use for manufacturing affects us.
The plastics from which we manufacture Jumper1 components have undergone a sharp price increase of between 20% and 50%34 and delivery times have risen from weeks to 6 months or even a year.35
The price of paper, with which we print the instructions for use and the various manuals, has risen by 30% and there has been a 45-day delay in deliveries.36 The cost of cardboard, with which we package our products, has also risen by 12% in the first few months of the year.37
Of course, all the problems and cost overruns in transport are also an issue, as we receive raw materials from different locations and distribute to countries on three continents.
Our sea, air and land transport costs have increased in the same way as other importers and exporters around the globe, as we have already seen in the article, the cost of a single container has risen from $1,000 to over $9,000.
The lack of space in transport has also affected us, with delays in deliveries of more than a month in shipments due to lack of space on ships and land transports, both in the export of our Jumper1 and spare parts and in the import of components and raw materials.
These delays with deliveries of polymers and other raw materials with the manufacturers and suppliers we work with, as well as delays and stresses in freight services, have been an opportunity cost for Aerower and all our distributors and partners.
Another destabilising factor in the market and in logistics movements, analysed in this article, has also affected us: Brexit. Spain, as a member of the EU, enjoys freedom of movement of goods with its EU partners, the exit of the United Kingdom from this club has meant an increase in incidents when moving our products across the new border. During the first months of the year, we have suffered a 700% increase in transport incidents with the UK, due to delays in the delivery of goods and bureaucratic problems at British customs.
Fortunately, Aerower's staff is made up of committed professionals and we are managing to solve all these problems little by little. We have diversified the origin of raw materials and suppliers in order to produce in less time, we work with the most reliable shipping companies in the market to avoid unwanted delays by assuming higher costs, and thus be able to meet the growing demand for jumpers, spare parts and accessories. In addition, we work with pallet and parcel brokers to achieve improvements in cost and delivery time, passing on to our customers the improvements we achieve and avoiding as much as possible that the current problems of the entire supply chain harm our customers.