Mexico's women fighters #JumpleWomen
Get to know the stories of women in Mexico who have achieved independence and career development thanks to their Jumple training. On International Women's Day, truly inspiring examples.
In Mexico, women's entrepreneurship has become a growing trend in recent years. Often, being a mother or being married is seen as a barrier to continuing to work, which has limited their ability to achieve their personal and financial goals.
However, Ana Delia Garcia, director of Jumper Evolution (Aerower distributors in Mexico), has shown that this does not have to be the case. Upon discovering jumpers, Ana saw a great opportunity for business and career development for women who wanted to work and still take care of their families. Through exercising with jumpers, they can be in control of their time and decide how many hours they want to devote to their work, without sacrificing their family life. However, one of the barriers to becoming an instructor or jumper salesperson has been the initial investment required.
To overcome this obstacle, Jumper Evolution has developed a financing programme that provides for the necessary training as well as the purchase of the Aerower Jumper1. The system consists essentially of split payments and is tailored to each individual. For example, they also offer the facility to pay by credit card in instalments and all instructors have discounts that increase with the volume of products purchased.
In addition, to further facilitate professional development through exercise with jumpers, Jumper Evolution offers support and back-up before, during and after each training. This includes the possibility to take other courses as a listener, as well as support to offer online classes and start earning money from day one. All of this is aimed at giving Jumple instructors in Mexico the maximum support to build their small business.
As a result, the Aerower and Jumple community in Mexico has grown into a large community of people united by their values and mutual support. The community supports each other in all situations, even organising raffles and events to help those who need support in particularly difficult situations.
In this way, the exercise with jumpers has become a great avenue of job development for Mexican women. It offers very flexible employment possibilities, where the professional sets the limit on how many classes she wants to do, where or by what means, full time or part time. They can earn their own money and develop their own projects or contribute to the family economy.
In other words, thanks to the vision and work of Ana Delia García and Jumper Evolution, in line with the vision and mission of Aerower and Jumple Academy to improve people's lives, many Mexican women have achieved independence and career development through fitness. On International Women's Day, these women are an inspiring example for all those seeking to achieve their personal and financial goals.

Record figures
Thus, the figures of the company in charge of distributing Aerower products and offering Jumple trainings in Mexico are impressive:
247 people have completed one of the trainings offered by Jumper Evolution, of which 234 are women. 149 have obtained an official Jumple certification.
70 members in the online group, where every day a Jumple instructor offers classes on a closed platform.
Jumper Evolution started with one experienced trainer and developed a new one at the beginning. After 2 years, they have developed their third trainer. All three are mothers and dedicated to exercising with jumpers as their exclusive working medium.
During the pandemic, some of the online classes had up to 130 students simultaneously.
Jumper Evolution is currently developing programmes with the state government to promote the sport. And in Puebla they are in negotiations to start a social programme to train indigenous communities as instructors.
All this has been achieved through commitment and hard work, being inclusive and offering payment options, growth, constant and personalised support and constant feedback. That is why Jumper Evolution is the story of a woman of great competence determined to raise her business project that has benefited a large number of other women in just two years. They are true Mexican fighters. Let's look at some particularly inspiring examples
Inspiring examples
Diana de la Cerda, Jumple Evolution trainer
Diana has built up a whole Jumple community from scratch in the state of Nuevo Leon. In addition to having achieved Jumple Evolution trainer status and training many instructors in the area, Diana personally organises the so-called "tandas" for her instructors. The tandas are the instalment payments to get the Jumper1.
As mentioned above, trainer Diana de la Cerda dedicates herself exclusively to exercising with jumpers as a way of life, and behind her is a family story of much love and overcoming as a mother.
Cecy Jiménez, Jumple Evolution instructor
Cecy's story is an example of constant growth. Cecy is a mum and was a receptionist at a gym before becoming an instructor. When she became certified, she took advantage of the discount voucher that instructors who train with Jumple Academy receive to buy her jumpers in instalments. To start teaching, she adapted the room of a family member's house and rented the equipment. She then bought her own in instalments and built her own gym in her home. Now, in addition to teaching Jumple Evolution classes, she also rents or shares her gym for other disciplines.
Ely Alcántara, Jumple Evolution instructor
Ely Alcántara's case is particularly inspiring because she unfortunately suffered an accident that has prevented her from working for several months. But she overcame adversity and got ahead by selling classes online, organising mass classes, renting Jumper1 to other instructors and organising raffles (Jumper Evolution funded jumpers for her to keep in stock).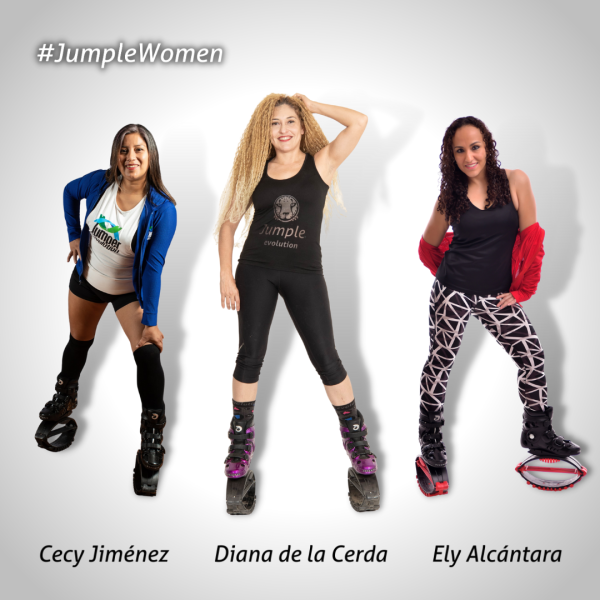 That's the #JumpleWomen!
The example of these authentic Mexican fighters is just one of many that occur daily around the world around Aerower and Jumple Academy. As a predominantly female discipline, many women around the world have found in exercise with jumpers a means of personal and professional development.
In every corner, #JumpleWomen are setting an example of determination and discipline, breaking down prejudices around sport and femininity, creating communities of support and solidarity, and opening up new possibilities for women of all ages who want to feel alive and fulfilled.
There is nothing more powerful than a woman jumping to the beat of her own music.