The maintenance of jumpers or rebound boots
Maintain your jumpers properly to extend their lifespan and always jump in the best condition. Most of these tips are also applicable to other brands on the market. So, if you have jumpers of another brand, this is also of interest to you!

Congratulations! If you have an Aerower Jumper1, you have the easiest to maintain model on the market. In addition, the parts of the Jumper1 are the most durable and allow us to offer the maximum guarantee: 2 years for all parts.

This is because it is the most up-to-date model, the latest development of this type of fitness footwear. The choice of materials and the design are the most optimised. Moreover, they are the only rebound boots manufactured in Europe and tested piece by piece at the manufacturing site. So when you receive an Aerower Jumper1, you receive a reliable and durable product that you can rely on.
Let's now take a look at how you can properly maintain your jumpers to extend their lifespan and always jump in top condition. Most of these tips also apply to all other brands on the market. So, if you have jumpers from another brand, this is also of interest to you!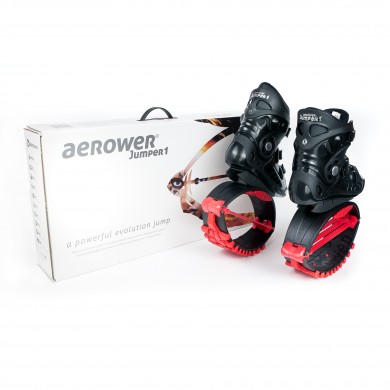 Customisation: the most important step
The most important step for our jumpers to have the longest service life and also to ensure all the benefits is that they are perfectly adapted to our weight and physical condition. In this respect, the Aerower Jumper1 is unbeatable, allowing the most precise adaptation. As you know, when choosing, we must take into account size, hardness of the arches and number of multi-bands. All sizes are compatible with all arch hardnesses and the multiband is universal.
To choose our size, we have the sizing sheet, where we can see which size of Jumper1 corresponds to our usual shoe size. We can even place our bare foot on the insole to be 100% sure.
To find out which arches we need, just consult the Strength Customization Chart. In this case, what matters is our weight and physical condition. To what we weigh, we must add 5 kg if we are in good physical shape and 10 kg if we are at a professional level; nothing if our physical shape is still low. With the result of this addition, we consult which of the 4 different hardnesses of bows is the best for us.


Finally, the multiband will give you maximum precision. It includes 9 intensities and you can feel free to cut bands until you find the perfect shock absorption for you, because cutting bands does not influence the warranty of that piece or your jumpers. Over time you will most likely level up and your jumps will get stronger. You will need a slightly harder rebound system, but then (in most cases) it will be enough to replace your multibands to have your boots perfectly adjusted again. Such a sophisticated and useful piece of equipment can only be found at Aerower. And by the way, it's compatible with other brands, just like the rest of RS!

For the complete process of choosing your Jumper1, click on the button below:
Know the 5 steps to choosing the best jumpers
Remember that the better customised your jumpers or rebound boots are, the better performance you will get, the longer they will last. And, above all, it's the only way to make sure you get 80% shock absorption on your jumps and achieve all the benefits that exercise with jumpers is capable of. The most precise customisation is offered by the Aerower Jumper1.
Small gestures to keep your jumpers always at the ready

In our day-to-day training with jumpers we can incorporate small actions to make sure they are always in perfect condition and will last as long as possible. Most of these small gestures are very simple and intuitive, so it won't be difficult to incorporate them into your routine. We take it step by step.
Before we start our class, there's something we all do, which is a little jumping around. It's irresistible as soon as we put on our jumpers. Without realising it, this is a very good habit that helps the equipment to suffer less, especially when we train in cold environments, because we warm it up and tune its flexibility. So keep doing it before every workout.

The next step in keeping our jumpers always ready happens at the end of the class. Take a look at the pieces, make sure they are all in good condition and have no damage, especially when training outdoors. If everything is OK, store them in a place protected from the sun and extreme temperatures. It's best to store them in your Koala Bag, the most practical sports bag for exercise with jumpers.

The last step is cleaning. Keeping your jumpers clean is very easy thanks to Aerower's design. On the one hand, maintaining hygiene to take care of our feet is essential. That's why the liner of the Jumper1 is removable and machine washable. It's perfect for ensuring the piece that is in direct contact with our feet is always clean, especially practical for gyms or centres where the same jumpers are used by several students. In addition, we have just created a new liner. Find out here all the improvements that the new J1+ liner brings.

On the other hand, it is also very important to keep the rest of the parts clean to avoid premature deterioration. To do this, just wipe the parts with a damp cloth, especially when training outdoors. Periodically we will also carry out a more thorough cleaning, which is highly recommended, especially when jumping on sandy terrain or with small stones. Again, it is enough to wipe all the parts with a damp cloth, but this time when they are disassembled. Fortunately, the Jumper1 is also the easiest to assemble and disassemble. Everything can be done practically manually and without the use of complicated tools.

Watch the Aerower Jumper1 assembly video
The very simple assembly and disassembly of the Jumper1 also allows us to replace very easily those parts that lose their properties. We can even have several multibands to adjust our jumpers to each type of training or each student who uses them.

How often do I have to change the parts of my jumpers or rebound boots?


As stated above, the warranty on all Aerower products is 2 years. This is because this is the minimum lifespan that all the parts of our products have for a use of two workouts per week.

Therefore, during that time at least, you should not worry about making changes to your parts, unless you want to customise them or have several multibands because you have moved up a level or do different types of training.

If we look at how jumpers work, we see that the parts that work the most are arcs and multibands. Their most important feature is flexibility, allowing us to perform our jumps and rebounds as naturally as possible. For this reason, these are the two pieces that we should observe the most. When the 2 years of useful life have passed, it will be time to replace them. But before that, if we notice that our rebound system folds too much or too little, it is advisable to replace the multibands first. If this continues to happen, the arcs will have to be replaced as well.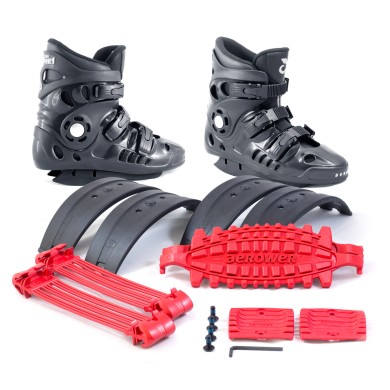 In any case, if your RS folds more than usual, it does not mean that it is insecure, there may be several reasons: for example, we have improved our physical shape and now we train harder.

What happens if I have problems with a part before the 2 years of service life?
It's not common, but if you have a problem with a part within two years of receiving it, claiming your warranty is easy. All you have to do is fill in this form and attach photos of the damage.
The most important thing is to visually check the parts of your jumpers as a habit to detect possible damage. If this is combined with proper cleaning and storage, you will be extending the life of your Aerower Jumper1.
How can I get spare parts for my jumpers?
If you want to customise your jumpers, have several multibands or liners, or need to replace a component, just contact your nearest Aerower dealer or visit the official online shop.

You will receive all these tips and the assembly and disassembly process explained step by step with your Jumper1! In the user manual, which you can also consult online at any time here.

How can I get my jumpers in the fastest and cheapest way?
If you want to find out all about jumpers (also known as rebound boots), enjoy this article, the most complete article ever written on the subject:

Know the jumpers or rebound boots